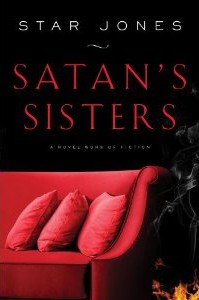 The great thing about having a Kindle is that you can get books the first day they premiere, and that's exactly what I did on 22 March 2011 when Star Jones' book, Satan's Sisters, hit the stores.
I would have finished the book in one day had it not been for other things I had to get done. When a client wants his/her website finished, s/he's not going to want to hear me say, "See. What had happened, right…"
When I first turned on my Kindle to start reading Satan's Sisters, I was about to take a nap. I was so ready to get started with the book that I said to myself, "I'll just read it until I start to nod, and then I'll come back to it later."
Child, please!
The book was so good from word one, I almost forgot I was supposed to be taking a nap! 😆
I had to force myself to put it down and get my nap out, so I could get back to work. I was on chapter four by the time I made myself stop.
Star doesn't waste any time getting right into the heart of the action. You are drawn into the story from the first sentence.
Satan's Sisters is a book about a book.
Before I go any further, let me give you a bit of advice: Do NOT try to replace the two words, Satan's Sisters, with the two words, The View.
While it's only natural that Star may have gleaned some descriptive material from her double decades in television, working on different shows, Satan's Sisters stands on its own merit, and it is a brilliant work of fiction by a brilliant writer.
If you start reading the book, trying to match the book's characters with real-life people, you not only do a disservice to Star's stellar writing, but you're also going to be hard-pressed to make the preconceived connections you think exist in the book.
Having said that, let me give you a brief overview of what you're in store for.
Satan's Sisters is centered around a day-time television show co-hosted by five women. A former co-host, who was forced off the show, has written a tell-all book about why she left the show and all the dirt she was privy to when she was on the show. As you can imagine, this sends everyone connected with the show into a tizzy about what's in this book. All those who think they may be affected are trying to do damage control before the damage hits the fan. The people most vulnerable are the five ladies who now sit "on the couch" and talk about politics, current events and the mess in other people's lives.
So who's on the couch?
There's Maxine, the lead host, who's worked her way to the top of television royalty by kicking much butt and taking many names. She's a long way from her family's sharecropping past, but she's got to do some serious legwork to keep it that way.
Then there's Whitney, a well-respected journalist, the mother of four and the wife to a husband who's getting his salacious sexual needs met in a way that no wife wants to come face-to-face with.
Shelly is a former wild-child, super-model with an Ivy League MBA, a taste for the night life and the sense to know that common sense and intelligence are more of an asset to her than her bangin' body and phat bank account.
Dara, the double-degreed Latina, is the baby of the bunch, but she will be no less affected if her biggest secret is revealed before she has the opportunity to reveal it herself.
Funny woman Molly, is the comedienne on the couch, but what she's dealing with in her life is no laughing matter whatsoever.
The rub? The former co-host with the tell-all book knows all their business, and she has some unfinished business of her own to deal with.
The strength of Satan's Sisters is that even the sub-characters have substance. While all the ladies on the couch have their own dramas to deal with, Callie, Josh, Riley, William, Ginny, Eric, Channing, Lizette and Karen are vital to rounding out the plot, sub-plots and sub-sub-plots. 🙂
Overall, I'd say Satan's Sisters boils down to the most amazing quote from the book:
"You have to be the author of the only dictionary that defines you. You can't allow anyone else to write that definition because when it changes—and believe me it always does—you won't know who you are."
Satan's Sisters gets Faydra Deon's 5-star "Beyond the Bomb!" rating.